The first 29 numbered pages of the assigned reading (not including the Roman numerals, that I DID read) were quite informational.
The first chapter of the assigned reading was interesting, the strong notion that human beings ought to not think of learning and schooling as being directly correlated was something I found to be revolutionary (although not far from how it ought to be).
People ought to continue learning far past their graduation day, although many find themselves no longer reading, writing, or in any other way exercising their brains.
Also, the text emphasized that while learning does not always continue into adulthood (or at least after schooling) it doesn't always occur in schools either. A lot of learning occurs at home, online, in blogs, on Facebook, in news articles, simply because it is so easy and accessible (and up to date!). The book emphasized that students go to 'internet cafes' (while mentioning it like 80 times) to learn. And, why not?! Internet Cafes host opportunities for many learning adults to correspond with each other while having infinite access to in theory most of the world's knowledge.
I hate to say it, well kind of, but Wikipedia now offers extreme access to outrageous knowledge. Knowledge that ought to be used more than text books, etc.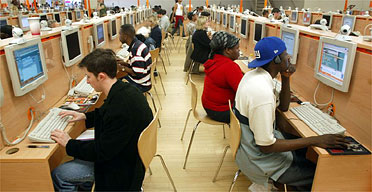 Public libraries, also, can serve as a phenomenal 'hotspot' for internet based knowledge.